Teladoc Health Expands Collaboration in AI with Microsoft to Address Healthcare Workforce Crisis
Strategic efforts will help minimize administrative burden by automating clinical documentation during virtual and in-patient care
PURCHASE, NY, July 18, 2023 (GLOBE NEWSWIRE) -- Teladoc Health (NYSE: TDOC), the global leader in whole-person virtual care, today announced it is furthering its collaboration with Microsoft by working together to integrate Microsoft Azure OpenAI Service, Azure Cognitive Services, and the Nuance Dragon Ambient eXperience™ (DAX™) into the Teladoc Health Solo™ platform. The integrated solutions will automate the creation of clinical documentation during virtual exams to help ease the burden on the healthcare workforce while improving the quality of shared medical information and the care it supports. The Teladoc Health Medical Group also plans to use Nuance DAX Express for care visits provided directly by Teladoc Health.

"Administrative burden and staff shortages are major reasons why clinicians are leaving the profession," said Dr. Vidya Raman-Tangella, chief medical officer at Teladoc Health. "We are focused on using AI to reassert and build the doctor-patient relationship at a time when technology frequently does the opposite. We are proud to partner with Microsoft and Nuance to break new ground."
By 2025, the U.S. Department of Health and Human Services predicts that there will be a nationwide shortage of 90,000 physicians worsened by professional burnout related to the demands of electronic paperwork. According to the American Medical Association, physicians spend two hours on administrative tasks for each hour of care provided. A longtime partner to hospitals and health systems, Teladoc Health is committed to helping organizations alleviate workforce burden and improve patient care, particularly with increased access and hybrid workflows like virtual nursing which enables experienced remote nursing staff to perform nursing responsibilities that do not require physical touch.  This frees up bedside nurses to focus on hands-on patient care and improving staff satisfaction.
"We are pleased to continue our collaboration with Teladoc Health, leveraging innovative technologies to help make it easier for clinicians to deliver care virtually and enhance the patient experience," said Tom McGuinness, Corporate Vice President, Global Health & Life Sciences, Microsoft. "Teladoc Health's integration of Azure OpenAI Service and Nuance DAX gives clinicians the tools they need to deliver quality, coordinated care, easing administrative burdens and allowing them to spend more focused time with their patients."
When integrated into the Teladoc Health Solo platform, Nuance DAX, an ambient clinical documentation solution, will automatically document patient encounters accurately and efficiently at the point of care for final clinician review and signoff. As a result, clinicians can interact with patients more naturally and conversationally without the need to look away to type notes during a telehealth visit.
The Teladoc Health Medical Group will also use Nuance DAX Express, a workflow-integrated, AI powered clinical documentation application that is the first to combine Nuance's proven conversational and ambient AI with the newest and most capable AI model, GPT4, in the Azure OpenAI Service. The use of Nuance DAX Express will provide quick and accurate reporting of encounters to other virtual and community-based clinicians to better coordinate care.
"Adding Nuance DAX and DAX Express into the Teladoc Health ecosystem represents the type of collaborative innovation needed to serve the rapidly changing needs of clinician's and patients across the care continuum," said Diana Nole, Executive Vice President and General Manager of Healthcare at Nuance, a Microsoft company. "It addresses the pressing challenge of reducing clinicians' administrative workloads in some of the most demanding and dynamic care environments in healthcare. Moreover, it combines the efficiency and advanced power of conversational, ambient and generative AI to give physicians the tools and information they need to provide timely, high-quality, reassuring and personalized care in any location, especially in urgent and virtual care circumstances when patients need it the most."
Teladoc Health first collaborated with Microsoft in 2021 to streamline the technology and administrative processes associated with providing virtual care, integrating the company's Solo platform within Microsoft Teams and as a strategic partner expanding virtual health capabilities for Microsoft Cloud for Healthcare.
About Teladoc Health
Teladoc Health empowers all people everywhere to live their healthiest lives by transforming the healthcare experience. As the world leader in whole-person virtual care, Teladoc Health uses proprietary health signals and personalized interactions to drive better health outcomes across the full continuum of care, at every stage in a person's health journey. Teladoc Health leverages more than two decades of expertise and data-driven insights to meet the growing virtual care needs of consumers and healthcare professionals. For more information, please visit www.teladochealth.com or follow @TeladocHealth on Twitter.
Source: Teladoc Health, Inc. – General
Contact 
Carolyn Edwards  
carolyn.edwards@teladochealth.com  
+1 321-795-1952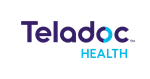 Source: Teladoc Health, Inc.